Film Screening of Malaya Lolas (Grandmothers of Freedom) and Discussion
Tuesday, August 21st 7-9 pm
International Action Center (IAC)
55 West 17th Street between 5th and 6th Ave, 5th Floor
Take 4, 5, 6, L, N, Q, R, W to 14th Street/Union Square
THIS EVENT IS FREE (contributions welcomed!)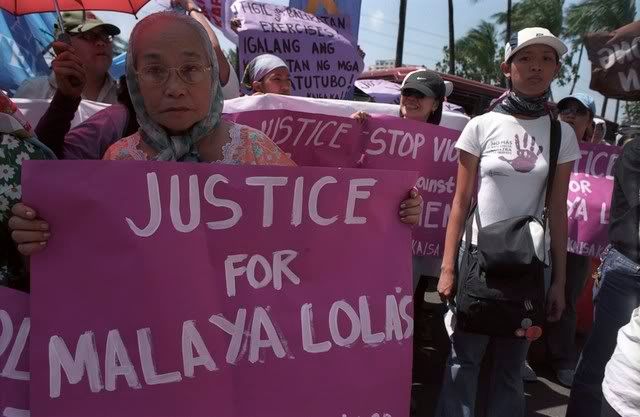 On the morning of November 23, 1944, the Japanese Imperial Army bombed the barrio of Mapanique in Pampanga from their garrison. By noon, most of the men and women were rounded up and brought to the local school house. There, the men were tortured and massacred in front of their wives, mothers, sisters and children. With their barrio and homes burned, the women were forced into a life of sexual slavery by the Japanese Imperial Army; under these conditions they were raped repeatedly and subjected to a panoply of violence. Of the thousands of women forced into sexual slavery in the Philippines, only 173 of the surviving Filipina comfort women have come forward to date. Earlier this month, HR 121, a demand for Japan to apologize to the women victimized by military sexual slavery during World War II, was passed by Congress.
Malaya Lolas
is the raw and truthful backstory portraying the struggle of these surviving
lolas
(now in their 70s and 80s) which questions whether an apology is enough to absolve Japan's military for imposing a legacy of violence onto the bodies of our grandmothers.
Please join FiRE (NYC), Pinay sa Seattle (Seattle), and babaeSF (San Francisco) this week as we launch our respective anti-militarization campaigns in this coordinated action spanning three cities.
The film will begin promptly at 7 pm, a discussion will follow, and light fare will be served.
We look forward to seeing you!
This event is sponsored by Filipinas for Rights and Empowerment (FiRE). Please learn more about us by visiting http://www.firenyc.org // Email us: fire.nyc@gmail.com // Or contact Hanalei at 201.790.0995