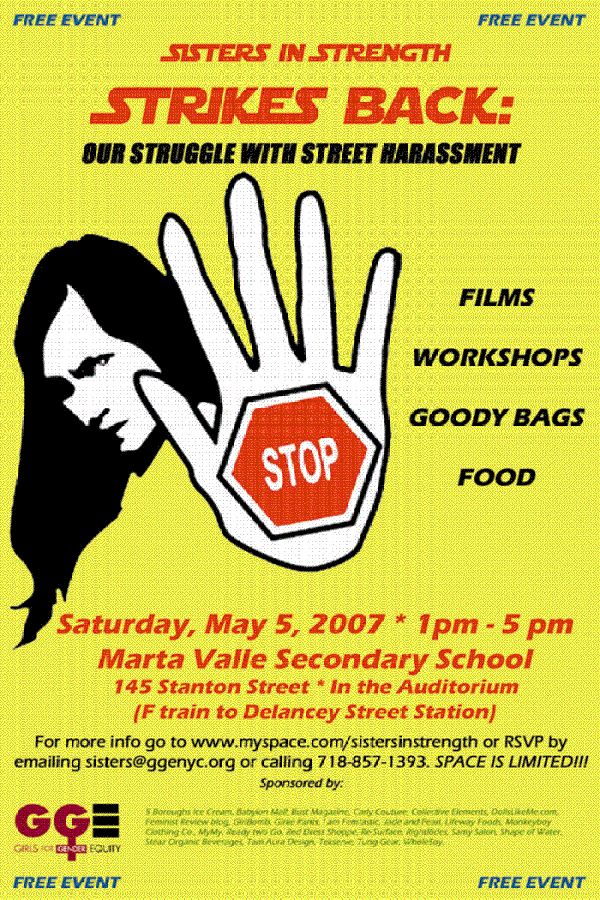 FiRE will be conducting a workshop called "How to DEAL" at the
Sisters in Strength Strikes Back: Our Struggle with Street Harassment
Summit, which was organized by Girls for Gender Equity. Please come check us out!
Saturday May 5, 2007 * 1pm - 5pm
Grand Street Settlement Beacon Center
at Marta Valle Secondary School
145 Stanton Street, New York, NY
The Street Harassment Summit is a free public event for education, community interaction, and the sharing of personal stories. War Zone (directed by Maggie Hadleigh West) and a short film created by the Sisters in Strength interns will be screened and workshops will be offered on different issues such as strategies for ending street harassment, how women can respond to street harassment safely, how street harassment effects the GLBTQ population, and how men can be allies to victims of harassment. Women, MEN, girls and BOYS of all ages are welcome to attend
and learn about this overlooked issue.
All attendees will receive a gift bag including items from our sponsors.
RSVP
For more information on the work of Girls for Gender Equity visit
www.ggenyc.org.
For updates about the Street Harassment Summit or to RSVP, visit
http://www.myspace.com/sistersinstrength
or email
sisters@ggenyc.org
.